Eirik Hegdal
 Saxophonist and composer, living in Trondheim, Norway.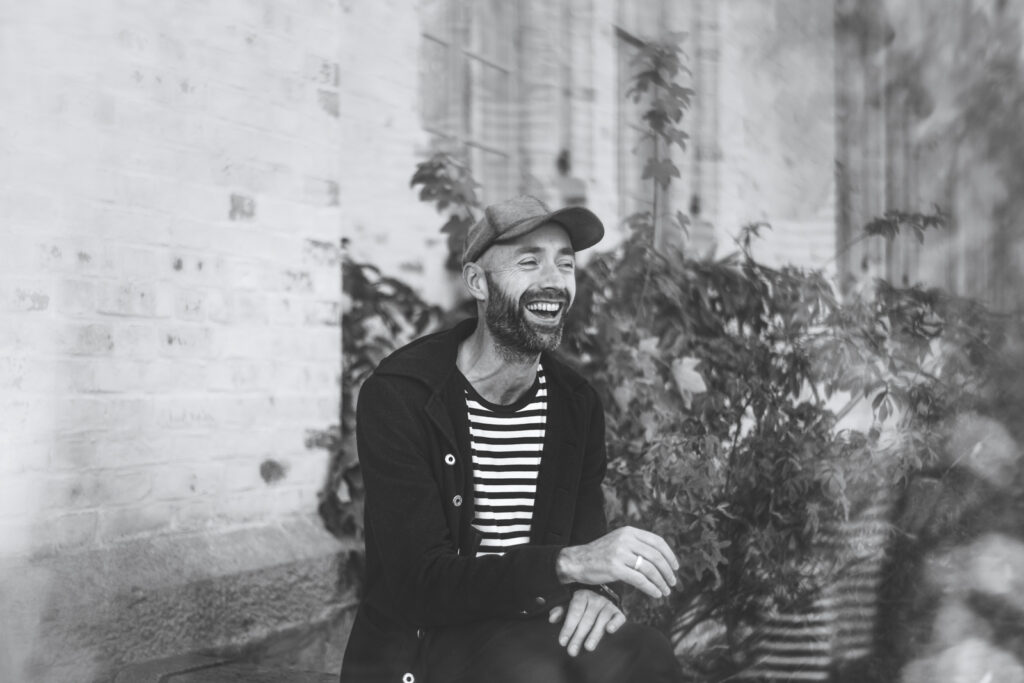 PLEASE EXCUSE bad english, bad language, bad memory.. Any badness!
1973: It is A BOY! I was born in Gjøvik, Norway
1979: Moved to Inderøy, Norway. Started playing the piano.
1982: Got a clarinet, but changed it into a alto saxophone the year after.
1989-92: Went to learn music and other stuff at Inderøy videregående skole (high school)
1992-93: Did not leave Inderøy. Stayed another year, at Sund Folkehøyskole, Inderøy, Norway, where I participated on my first recording "SFH 1993" (1993). Here I met Thomas Dahl, which I the next years studied together with at..
1993-97 ..NTNU, special jazz studies, Trondheim, Norway. Here I founded the group Dingobats (1995-2005), which besides me consisted by Njål Ølnes (tenor saxophone), Thomas T Dahl (guitar), Mats Eilertsen (bass) and Sverre Gjørvad (drums). We mainly played compositions by me, and released the Cd's "The New Dingobats Generation" (1998), "Pöck" (2001) and "Follow" (2004).
1998: I moved to Oslo
2001: Met a girl!
2001: I was asked to sit in for the double-booking-trombone-player in bass player Per Zanussis group Zanussi Five. (The double-booking-trombone-player has been double booked ever since.) We have released the albums "Zanussi Five " (2004), "Alborado" (2006), "Ghost Dance" (2010), Zanussi Thirteen "Live" (2011) and "Live in Coimbra" (2014).
2002: I moved back to Trondheim, to become the new leader for the Trondheim Jazz Orchestra, taking over after the piano player Erlend Skomsvoll (which I have had the honor to work with in several projects). I also started the collaboration with Alpaca Ensemble (Alpaca Trio: Sigrid Stang, Marianne Baudouin Lie and Else Bø). These two ensembles have resulted in many musical highlights in my career, so far. Among them:
Trondheim Jazz Orchestra (TJO)
– TJO & me released the Cd "We Are?" (2005) with my compositions, and lyrics (and vocals) by the great singer Siri Gjære, and the poet Rupert Brooke. (Re-released, with 5 bonus songs, in 2012.)
– I arranged the music of Maria Kannegaard (a fantastic piano player and composer). This resulted in the album Trondheim Jazz Orchestra with Maria Kannegaard trio "Live in Oslo" (2006).
– At Molde Int. Jazz Festival in 2006 I got the possibility to present my compositions with the American star saxophonist Joshua Redman as a guest. This was a really happy union, which we have repeated several times after. There is also an album: TJO & Eirik Hegdal with special guest Joshua Redman "Triads and More" (2010). This album was nominated for the Norwegian Grammy.
Watch TJO with Redman HERE.
– TJO & me made an studio album called "Wood and Water" (2008) with lyrics and vocals by Siri Gjære and compositions by me. This was intended to be something very different from "We are?", which, almost, was the same setting/musicians. I think we succeeded. Great fun!
–  At Molde Int. Jazz Festival in 2011 I arranged the music of the great Dave Holland, and performed with him and TJO. It was fantastic! The minute we left the stage we heard of the terror in Oslo, and later on at Utøya (July 22nd)…
– I also started the project called "Sidewalk Comedy". See for yourselves HERE!  In 2013/14 we released the album "Sidewalk Comedy", both CD and LP.
– In 2013 I re-arranged the music of Dingobats for the Trondheim Jazz Orchestra.
– In 2017, me and Ole Morten Vågan (an unbelieveable gifted bass player and composer!) arranged the music of Pat Metheny, and playing together with him. A fantastic musician!
– 2017 I retire as Artistic Director for TJO. Ole Morten Vågan will keep up the joy!
Alpaca Ensemble
– My first composition for this ensemble was "Skråpanel" (2002). A quartet, for the trio and me. We released the piece in 2007, the same year as…
– …we released a quintet piece (together with the great drummer/percussionist Tor Haugerud!!) "Tapet Tapet!". See one of the parts HERE.
– In 2010 we recorded a tentet piece, live from Trondheim Chamber music Festival. This was called "Elevator", and the fantastic stunt poet/poet/singer Matt Burt wrote the story.
– For the same festival, in 2012, a new piece, called "Mekatonia" was performed on top of a gigantic double bass! This is the work of the brilliant Gilles Berger at Cirka Teater, in Trondheim. Watch scenes from our 2014 version HERE. The Mekatonia music was released in the end of 2017.
– The album "Moving Slow" was released in 2014. This edition is a sextet, playing both old and new music (by me).
– Another collaboration with Matt Burt was released in December 2018, called «Arrival Hall» together with Dog&Sky and Alpaca Ensemble.
– Happy 20 year anniversary resulted in the great release "The Sky Opens Twice" (2021). Lyrics and vocals by the fantastic Thea Ellingsen Grant.
Back to:
2002: The same year as I moved to Trondheim, I participated in the quartet Brat (2002 – 2006) together with Kjetil Møster (saxophone/clarinet), Ole Morten Vågan (bass) and Ole-Thomas Kolberg (drums). We released the Cd "Please don't shoot" in 2005.
2002 was the year for Erlend Skomsvolls recording "Variasjoner", and later on came "Skomsork" (2004). Skomsork was founded, I guess, in 1996. An exiting "big sounding" small ensemble.
2006: It is A BOY!!
2007: On a tour with the Trondheim Jazz Orchestra, Erik Johannessen (trombone. Not the double booker!) and me called the drummer Gard Nilssen and started the trio Lord Kelvin. So far, two albums: Dances in the Smoke (2009) og Radio Has No Future (2011).
Same year: Together with Michael Francis Duch (bass) and Tor Haugerud (drums) I started a lovely trio called en en en. Listen to our albums "Rød & Blå" (2010) and "Grønn & Gul" (2017). Our newest cooperation is with the amazing swedish guitar- and pedal steel guitar player Johan Lindström, which premiered at Kongsberg Jazz Festival in 2019.
2009: Bought a clarinet (27 years after my first squeak)
2009 is also the year that I bring my tunes into a band which Gard Nilssen had put together for a jam session. It was me and Gard, and Rune Nergaard (double bass) and André Roligheten (saxophone and bass clarinet). I decided to call Gard's jam band:
Team Hegdal
Smooth.. Team Hegdal has released "Vol 1" (2010), "Vol 2" (2011), "Vol 3" (2015), "Vol 4" (2017) and "Vol 5" (2022). For "Vol 2" we invited the highly gifted violinist Ola Kvernberg and vibraphonist Matias Ståhl. "Vol 3" and "Vol 4" included the fantastic piano player Oscar Grönberg, and Ole Morten Vågan had replaced Rune on the double bass. Check out the song "78 Raggae" (from "Vol 4"), live from Nasjonal Jazzscene/Oslo/Norway in 2016, HERE.
"Vol 3" won the Norwegian Grammy for Best Jazz Album 2015!
2009: It is A GIRL!!
2010: I married the mother of the boy and the girl, on the exact day, nine years after she became my girlfriend (and I became her boyfriend)!!
2012: I've got a REAL job! (Money coming my way, every month!) I work, half-time, as a teacher (ass. professor jazz) at NTNU, special jazz studies, in Trondheim, Norway. My subjects are saxophone, ensemble and composition. There is so much talent in the world! Keep'em coming!
Musical Balloon
In 2018 I had the honor to write a commissioned work for the Norwegian jazz festival Vossa Jazz. The music, and the band, is called «Musical Balloon» and consists of some of my favourite musicians: Eivind Lønning (trumpet), Mattias Ståhl (vibraphone/soprano saxophone), Nils-Olav Johansen (guitar/banjo/vocal), Ole Morten Vågan (double bass) and Jon Fält (drums). The composition was nominated for TONO's Komponistpris.
Følk
2019: I was granted Kongsberg Jazz Festival's Musical award in 2018! As a part of the award I did three concerts at the festival in 2019, presenting Musical Balloon, en en en with Johan Lindström (premiere), and the new constellation Følk. Følk (dialect for "folk") is music inspired by folk music and the highly gifted musicians in the band: Sofia Jernberg (vocal), Unni Løvlid (vocal), Gjermund Larsen (fiddle) and Hans Hulbækmo (drums/percussion/mouth harp).
And in between everything, and not less important:
Being a part of Eldbjørg Raknes' trio (2009-2011) with Stian Westerhus (guitar) and Tor Breivik (sound). CD: "From Frozen Feet Heat Came" (2010) Raknes' "Hva kommer nå…?", Ola Kvernberg "Liarbird" (CD: "Liarbird" 2011) (Norwegian Grammy award winner!), touring with Saxwaffe, Lorenz Raab "Expanded" (CD: "Expanded" 2012), Martin Küchen's "Angles 8" (CD: "By way of deception" (2012), "Angles 9" LP: "In our Midst" (2013), CD/LP: "Injuries" (2014), CD/LP: "Disappeared Behind the Sun" (2017) playing with the rock punk band "Dog and Sky" (CD: Lhasa Express (2008), "Denver" (2013) and "Death's Got Talent" (2017) and some EP's, Kristoffer Kompen quintet (CD: "Short stories of happiness" 2011), Sverre Gjørvad (CD: "Denne lille pytten er et hav" 2001), playing duo with the amazing Jon Balke at Soddjazz (2012) in my parents living room, Mats Eilertsen's "Rubicon" (CD: "Rubicon" 2016), touring with Trio HEP, Formo Tre & Metall (CD: "Amor & Labor" 2013), Ole Marius Sandberg's quartet (CD: "Or Better Still" (2013), "Clouds" (2014) and "Ensemble" (2018)), playing in the great trio Oscar Grönberg Trio (CD: "Walking in Triangles" 2018), being in beautiful projects with the talented composer and bass player Bjørn Marius Hegge, winning an award for the music for the Cirka Theatre piece "Hundre Hemmeligheter" together with Trondheim Voices and Asle Karstad, releasing an album with Trondheim Voices (2021), all the great projects with Trondheim Jazz Orchestra, and playing with all those fantastic musicians, listening to everything with Wayne Shorter, being introduced to the music of Django Bates (in 1994), in early years been blessed with a great mum, dad and sister, great teachers as Jarle Anzjøen, John Pål Inderberg, Tor Yttredal, Åste Selnes, Annette Munkeby, Anna Vatn (piano)..  (There will always be missing something and someone here. Sorry. I'll try to update from time to time!)
As a composer I have written pieces for Alpaca Ensemble, Trondheim Jazz Orchestra, Dingobats, Team Hegdal, Trondheim Sinfonietta, Trondheim Symphony Orchestra, Cirka Teater/Trondheim Voices, commissioned work for VossaJazz 2018 "Musical Balloon", Bodø Sinfonietta, Bodø Sinfonietta with Saxwaffe, Oslo Philharmonic Orchestra,  Midtnorsk Kammerensemble, Arctic Guitar Trio, Marianne Baudouin Lie, Taffelpikene, Krøyt with Vertavo string quartet, and others.
Did you bother to read it all? So many words!
I wish you all a splendid day!
Eirik Hegdal